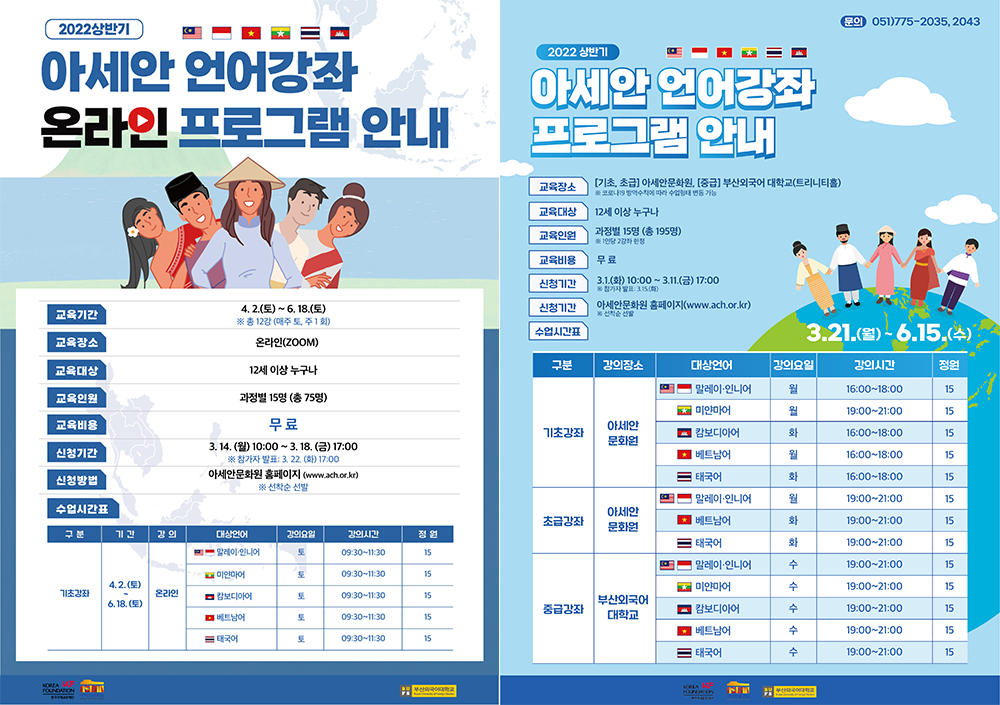 In the first half of 2022, the ASEAN Culture House once again offers its popular ASEAN Language Courses for five different languages. We look forward to your interest and participation, but please understand that the classes' duration and format are subject to change depending on the COVID-19 situation.
▪ Period: March 21, 2022 to June 18, 2022
▪ Venue: ASEAN Cultural House (introductory + elementary levels) / Pusan National University of Foreign Studies (intermediate level)
▪ Price: Free
▪ Target Group: Anyone over 12 years old
▪ Application Period:March 1–11 (Offline Course) / March 14–18 (Online Course)
▪ Max. number of participants: 15 people per course (total 195 people); limited to 2 courses per person
Please note: Accepted participants who fail to attend classes without canceling or attend less than two classes will be given lower priority when applying for the next semester.
▪ Schedule
Level
Period
Venue
Language
Day
Time
Participants
Introductory
Mar. 21 –Jun. 15
ASEAN Cultural House
Malay Indonesian
MON
16:00-18:00
15
Burmese
MON
16:00-18:00
15
Khmer
MON
19:00-21:00
15
Vietnamese
TUE
16:00-18:00
15
Thai
TUE
16:00-18:00
15
Elementary
ASEAN Cultural House
Malay Indonesian
MON
19:00-21:00
15
Vietnamese
TUE
19:00-21:00
15
Thai
TUE
19:00-21:00
15
Intermediate
Pusan National University of Foreign Studies
Malay Indonesian
WED
19:00-21:00
15
Burmese
WED
19:00-21:00
15
Khmer
WED
19:00-21:00
15
Vietnamese
WED
19:00-21:00
15
Thai
WED
19:00-21:00
15
Introductory
Apr. 2-Jun. 18
Online
Malay Indonesian
SAT
09:30-11:30
15
Burmese
SAT
09:30-11:30
15
Khmer
SAT
09:30-11:30
15
Vietnamese
SAT
09:30-11:30
15
Thai
SAT
09:30-11:30
15